Message from Outside Directors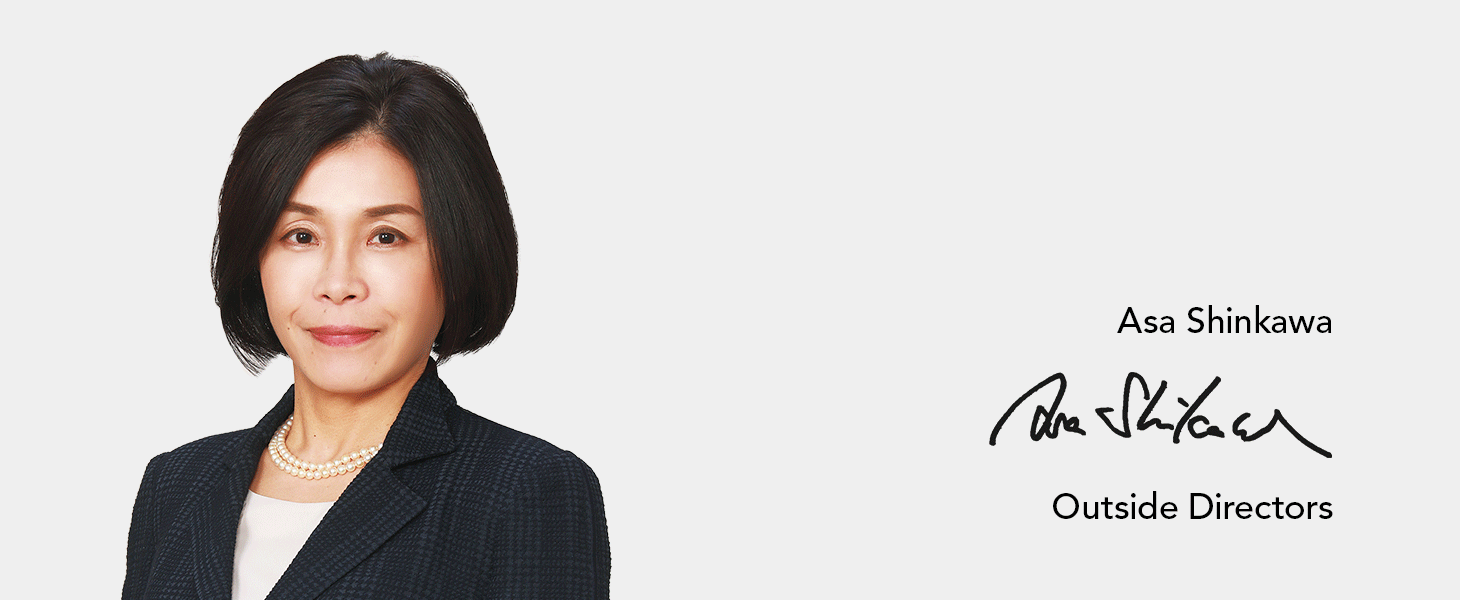 Brief Personal Record and Position
| | |
| --- | --- |
| April 1991 | Became an attorney-at-law (Current occupation) |
| January 2001 | Became partner at Nishimura & Partners (Currently Nishimura & Asahi) (Current position) |
| April 2019 | Became visiting professor at Graduate School for Law and Politics, Tokyo University (Current position) |
What was your reason for accepting the position as a TEPCO outside director?
As an attorney I have been involved in M&A, securities trading, corporate governance, and competition law for over 30 years. Since 2015, I participated in policymaking as a member of government councils, etc. hashing out the details of the government's competition policies for power markets based upon the basic energy policy of 3E + S (Energy Security, Economic Efficiency, Environment + Safety), systems for energy system reform, and policies to turn renewable energies into primary power sources, which has been a great experience.
Power companies have found themselves in a fiercely competitive environment since the complete deregulation of the power and gas retail markets, and there have been great changes in the market due to carbon neutrality, the use of renewable energies as primary power sources, the demand to strengthen power resilience, the expansion of distributed energy systems, and digitalization. In Europe, where the power market was deregulated before Japan, companies have escaped from traditional business models and switched to new business models. I believe it is extremely important for Japan's energy policy that the TEPCO Group overcomes difficult management issues and meets the expectations of all stakeholders, including shareholders, society, employees and consumers, etc., while also switching to a business model that enables sustainable growth and improvement in corporate value over the mid to long-term. That is why I accepted the position as an outside director.
What is expected of outside directors by shareholders and institutional investors. What do you think about the role that outside directors play?
It is common knowledge throughout the world that in order to achieve sustainable growth and improve corporate value over the mid to long-term, independent outside directors play a necessary role in regards to nominating, compensating, and auditing managing executives. Companies with a Nominating Committee, establish three committees for which outside directors make up the majority. The auditing of executives responsible for performing executive duties is forced by company law, and in practice, in addition to the need to be from outside the company, the current trend is for outside directors to also fulfill independence criteria. The core role of outside directors is to think about general management strategies, and monitor executive actions from an independent point of view to ensure that they are in line with management strategies through discussions with management and Board members. Their role is also to leverage their differing backgrounds and knowledge to discuss actions that they feel deviate from global standards and best practices, and help to construct and strengthen offensive and defensive governance that fits the company.
Could you say a word to shareholders and institutional investors?
The utilities industry, such as power companies, has an important mission of providing infrastructure indispensable for corporate activities and the daily lives of the people. Therefore, running their business in a manner that not just improves financial performance, but also maintains the trust of stakeholders, such as society, employees, and consumers, etc., and fulfills their expectations, is more important for achieving sustainable growth compared to other industries. I will do my best to help the TEPCO Group obtain the trust of stakeholders and switch to a business model that enables it to balance the creation of value over the mid to long-term with the creation of a sustainable society.
Asa Shinkawa
Outside Director