Efforts to Respect Human Rights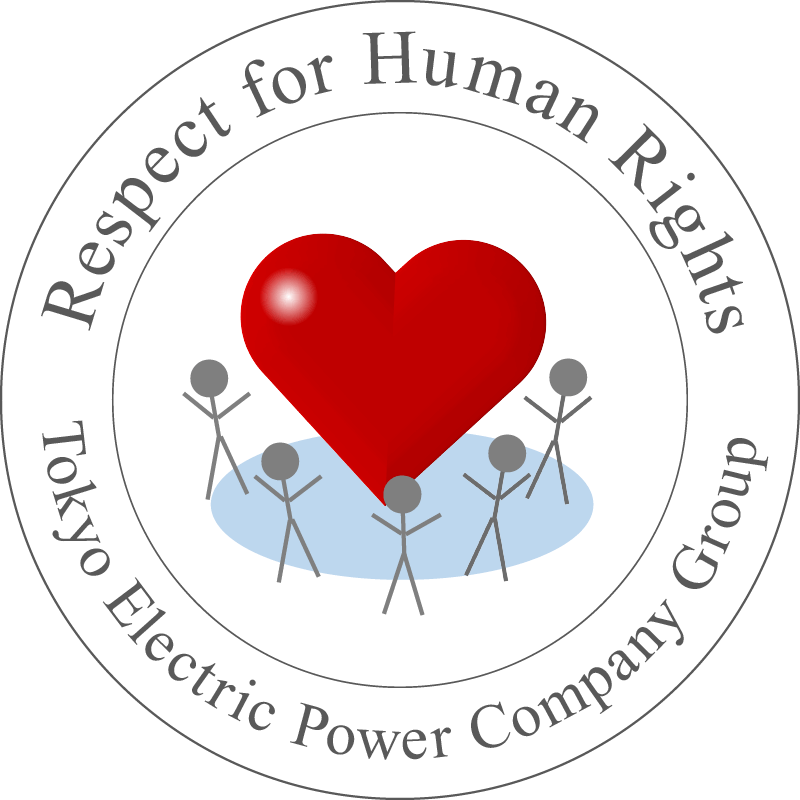 The Tokyo Electric Power Company Group ("TEPCO Group") has established and announced its TEPCO Group Human Rights Policy in August 2021, aiming to elevate its previous human rights efforts to a global level and contribute to protecting/promoting human rights across society as a whole, including the international community. We aspire to become a corporate group that continues to be trusted and chosen by society and customers, and respect human rights as the basis of our operation.
1. TEPCO Group Human Rights Policy
The TEPCO Group established and announced in August 2021 the TEPCO Group Human Rights Policy ("the Policy") that clarifies our stance toward efforts to respect human rights, in accordance with the United Nations Guiding Principles on Business and Human Rights. Besides strengthening our previous initiatives for human rights, we will promote human rights-respecting efforts that align with international standards in order to commit ourselves to prevent and mitigate adverse impacts on human rights.
Should the operations, products, or services of not only the TEPCO Group but also our business partners, including suppliers, adversely impact the human rights of our stakeholders including customers and local communities, we will take appropriate actions.
The Policy was established based on international human rights norms and principles (e.g., the International Bill of Human Rights, the International Labour Organization's Declaration on Fundamental Principles and Rights at Work, and the Children's Rights and Business Principles), and by incorporating opinions of external experts.
Commitment to Specific Human Rights Issues
The TEPCO Group respects the following rights and human dignities in accordance with international norms and principles on human rights.
(1) Prohibition of human trafficking, forced labor, and child labor
(2) Freedom of association and respect for the right to collective bargaining, etc.
(3) Respect for diversity and equal opportunity
(4) Prohibition of all forms of discrimination*, harassment, bullying, and unfair treatment
(5) Appropriate management of working hours and reduction of excessive working hours
(6) Securing the minimum wage and supporting the living wage
(7) Ensuring a healthy and safe work environment
(8) Protection of personal information and privacy
(9) Ensuring the safety of consumers and local communities and disclosing information transparently
*

Discrimination on the basis of race, color, sex, language, religion, nationality, age, sexual orientation, gender identity, sexual expression, disability, political or other opinions, national or social background, property, family or other status, or any similar reason.
<Relevant regulations>
2. Governance Structure of Respect for Human Rights
With the establishment of the Policy, we reorganized our Human Rights Awareness Committee, the primary goal of which has been to resolve/prevent issues such as discrimination, and accordingly set up the TEPCO Holdings Human Rights Committee ("HD Human Rights Committee") in February 2022.
The HD Human Rights Committee, chaired by the Chief Human Resources Officer ("Human Rights Chairperson"), chiefly consists of TEPCO Holdings' relevant department/office managers and human rights directors of TEPCO Power Grid, TEPCO Renewable Power, and TEPCO Energy Partner ("core companies"). Each core company has its own human rights committee, and the committee chairs also serve as members of the HD Human Rights Committee.
As a general rule, the HD Human Rights Committee meets twice a year to engage in such activities as reviewing efforts from the previous fiscal year, deliberating plans for the current fiscal year, and monitoring the human rights due diligence action plan.
The Committee also shares specific cases submitted to human rights grievance mechanisms, and discusses and recommends remedial measures.
Items reviewed/decided upon by the HD Human Rights Committee are reported to the executive committee, and other bodies, if necessary. When considering solutions for and remedying specific cases confirmed by the Committee, and when practicing recurrence prevention measures, we coordinate with internal committees as well as core companies responsible for corporate ethics and risk management. We also take action by coordinating with external experts (e.g., attorneys) and labor unions if necessary.
Here are the details on recent HD Human Rights Committee sessions.
Hosted day
Agenda
Attendance
First Human Rights Committee Wednesday, February 9, 2022

FY2021 efforts (Interim report)
Sharing and calling attention to the contents of major consultations received at the Workplace Human Rights Report Desk and the Human Rights Consultation Desk.

24 out of 24 (Attendance by proxy: 2)
Second Human Rights Committee Monday, June 13, 2022

Summary of FY2021 activities
Deliberating FY2022 focus item, and action plan based on human rights impact assessments
Sharing contents of major consultations the Human Rights Report Desk and the Human Rights Consultation Desk received
Web accessibility considerations

24 out of 24 (Attendance by proxy: 3)
Provided below are the recommendations/remedial measures based on discussions from previous HD Human Rights Committee sessions.
For stronger governance, we recommended responsible divisions to make human rights grievance systems better recognizable and widely known.
Reflecting opinions from visually impaired individuals, we made an organization-wide recommendation about how to communicate information that many employees view in particular (e.g., organization chiefs' messages on the intranet).
Reflecting grievances filed by contract staff, we communicated about thoroughly practicing the contract management manual.
<Reference>
3. Human Rights Due Diligence
("Human Rights DD")
The TEPCO Group respects human rights in all aspects of its business activities. We built a human rights DD mechanism based on the United Nations Guiding Principles on Business and Human Rights so that the human rights of all stakeholders, including people impacted by our business activities, are respected, and set "officers and employees" and "suppliers" as priority response stakeholders. We have also started taking actions for consolidated subsidiaries covered by the Policy.
System for respecting human rights, based on the United Nations Guiding Principles on Business and Human Rights
Human Rights Impact Assessments on Officers and Employees
To implement human rights DD for officers and employees, we specified adverse impacts caused by our business (human rights impact assessments). With the input from external experts, we analyzed our internal rules, results of employee opinion surveys, previous lawsuits, and contents of human rights grievances, among other information. We accordingly identified human rights issues and assessed them from the perspectives of the scale and scope of human rights violations, and the remediability of fully restoring human rights.
As a result, assessments showed particularly significant adverse impacts in the categories of harassment, working hours, and personal information. Preventing inappropriate cases related to these three items and minimizing impacts when such cases occur will thus be our focus for FY2022.
Suppliers
We newly established the Sustainable Procurement Guidelines (the "Guidelines) by adding an element of respect for human rights to the Basic Policy on Procurement, with the aim to develop stronger respect for human rights in our supply chain. We also developed a system to reinforce our suppliers' respect for human rights and started to take action in FY2022. Example endeavors include having suppliers submit a confirmation document that declares they are properly practicing the Guidelines, and distributing a Sustainable Procurement Questionnaire to check the extent to which suppliers are complying with the Guidelines.
System to Reinforce Suppliers' Respect for Human Rights
We apply the PDCA cycle to develop stronger respect for human rights in the supply chain.
<Procurement-related policies>
Basic Policy on Procurement

Basic Policy on Procurement
Sustainable Procurement Guidelines
Confirmation of Compliance with Sustainable Procurement Guidelines
Consolidated subsidiaries
We conducted the Self-Assessment on Respect for Human Rights (69 items including the company system for respecting human rights, suppliers, and the nine human rights issues committed under the Human Rights Policies) for the 44 consolidated subsidiaries that are covered by the TEPCO Group Human Rights Policy and the suppliers/business partners of TEPCO Holdings, Inc.("TEPCO Holdings") and its core companies (December 2021).
Beginning in FY2022, we have been conducting interviews with each individual company on a priority basis, because each consolidated subsidiary has its own characteristics depending on its size, year of establishment, and business features and it is necessary to check the situation of each individual company, identify the issues, and develop/take measures.
We will also consider offering support as a parent company so that the consolidated subsidiaries can independently develop their own initiatives to respect human rights.
<Reference>
4. Grievance Mechanism
The TEPCO Group has established both internal and external grievance mechanisms to respond appropriately to human rights-related issues. In addition to ensuring the anonymity of clients or whistleblowers and the confidentiality of the content of their reports, we thoroughly protect the clients or whistleblowers and prohibit unfavorable treatment and retaliation against them.
If it becomes apparent that the TEPCO Group's operations have caused or were involved in an adverse impact on human rights, we will engage in remediation and redress through appropriate procedures and dialogues.
Primary Consultation and Reporting Contacts for Human Rights
No.
Name
Availability
Format of consultation
Open to
1
External
On our website (Reports are posted)
All stakeholders
2
Human Rights Consultation Desk
Internal
e-mail
Officers and employees of TEPCO Holdings and its core operating companies
External
phone (Accepted on holidays / after-hours)
<Reference>
3
Corporate Ethics Consultation Desk
Internal
e-mail, phone, intranet, postal mail
All persons currently and previously involved in the operations of the TEPCO Group
External
e-mail, phone
4
Working Hours Consultation Desk
Internal
phone, intranet
5
Internal
On our website (Reports are posted)
Suppliers involved in material and equipment procurement
Response System for Consultation and Reported Cases
TEPCO Holdings' Human Rights Coordinator ("the HRC of HD") will respond to cases by coordinating with the human rights officers, who is also in charge of corporate ethics, of each workplace and considering the human rights of the person consulting or reporting.
Veteran employees with management experience serve as the HRC of HD.
Female counselors (managers) are assigned.
The Human Rights Reporting Desk and the Human Rights Consultation Desk (see 1 and 2 in the above table) received 115 grievances cases in FY2021.
5. Stakeholder Engagement
We will strive to engage in dialogue with all stakeholders such as workers' representatives, business partners including suppliers, and local communities, so that we can understand and respond to the human rights-related impacts of the TEPCO Group's operations from the perspective of the affected stakeholders. We will also refer to the opinions of external experts.
We recognize that the working conditions and safety of contractors are human rights issues peculiar to our industry. Through interviews, we will deepen our understanding of the situation and take further action.
| | |
| --- | --- |
| January 2022 | We exchanged opinions with a supplier (a construction company) and shared our awareness of issues. |
| February 2023 | We plan to interview multiple construction companies by referencing results of the Sustainable Procurement Questionnaire. |
6. Information Disclosure
On our website (this webpage) and other locations, we will periodically disclose information about the process of efforts made based on the Policy and results of assessments on their effectiveness.
We will also disclose our efforts on sources such as the Integrated Report and Corporate Governance Report.
7. Information Dissemination/Education on the Policy
The TEPCO Group will provide appropriate education and training to all officers and employees so that the Policy permeates the company. We will also not only incorporate this policy into related policies, procedures, and tasks to properly embed it in our operations, but also work on building the capability of individuals in charge of human rights DD for the effective implementation of human rights DD. Moreover, we will strive to respect human rights throughout the supply chain by thoroughly communicating the contents of the Policy to our business partners, including suppliers.
Commitment of Top Management
Taking advantage of Human Rights Week, the Representative Executive Officer and President of TEPCO Holdings, Inc. issued a message through the intranet. (December 1, 2021)
Leadership of multiple subsidiaries also sent out messages. (14 companies)
Transitioning from "Awareness" to "Respect" for Human Rights
To aim for the next level—transitioning from "teaching and learning" human rights efforts toward having each individual voluntarily "respect" human rights—we have changed the phrase "human rights awareness" that we have been using in our tasks and other scenes to "respect for human rights."
Training
Ahead of establishing the Policy, we invited an external lecturer and hosted a training for directors entitled "Why do we need to respect human rights now?" (May 2021)
We hosted an "e-learning to develop deeper understanding of the Human Rights Policy" for all employees (including temporary employees, part-time workers, and temporary staff) of TEPCO Holdings, core operating companies, and consolidated subsidiaries to which the Policy applies. (2021 4Q)
Results of Other Human Rights Education (FY2021)
Name of training
Content
Total number of participants
2021 New employee training

Responses to discrimination issues and discriminatory graffiti
Various types of harassment (e.g., power harassment, sexual harassment, maternity harassment, and paternity harassment)
How to ask for help in case of problems

521
e-learning

Training to develop deeper understanding on LGBT

25,928
Workplace training

Various types of harassment, human rights, etc.

26,478
Creative Approaches for Enhancing Sensitivity to Respect for Human Rights
Launching in the intranet a portal site on respect for human rights (July 2022)
We improved the accessibility to our grievance mechanisms, and sorted training materials and information related to respect for human rights.
Establishing an emblem of respect for human rights and using pictograms
We developed and have been using on various media an emblem and pictograms to visually promote respect for human rights.
The aim of this move is to prevent harassment and foster mindsets/behavior of respecting each other's human rights, by visually facilitating acute awareness of respect for human rights.
<Emblem of respect for human rights>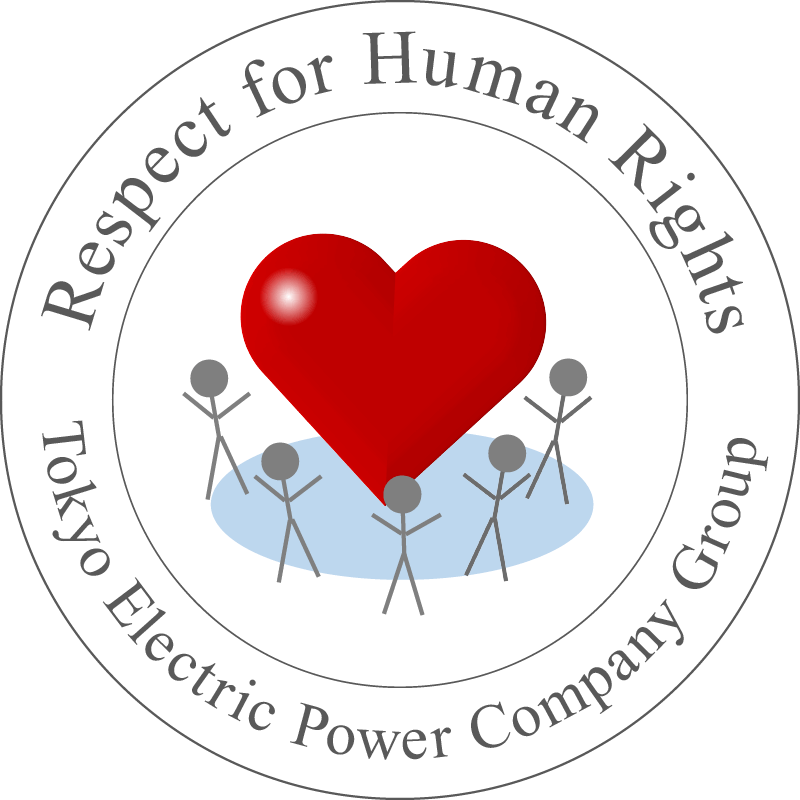 Human rights are inherent rights for people to live happily and humanly with dignity.
The TEPCO Group respects human rights, and this mindset underlies our operation.
This emblem likens our consideration for others to an image of a heart, and represents our respect for the human rights of all stakeholders.
<Pictograms representing respect for human rights>
These pictograms are created by the TEPCO Human Rights Committee with the hope that human rights will be respected in all aspects of our business.
In addition to the above efforts, the TEPCO Group is making appropriate Policy-based responses for discrimination issues, for which we have hitherto been taking action as well.
How to Respond When We Find Discriminatory Graffiti
Sometimes people write discriminatory graffiti on the TEPCO Group's electric power equipment, office buildings, and other locations. To avoid taking part in human rights violations, we have developed and internally informed the TEPCO Group of a briefing material and reporting sheet about specific responses to be taken when such graffiti is found, and we thereby strive to take proper and quick action upon discovering such graffiti.
Fair Recruitment
Based on the Policy, the TEPCO Group will fairly screen applicants by respecting their fundamental human rights to ensure equal employment opportunities.
Coordinators for screening for fair recruitment and awareness for human rights are appointed and notified to the responsible Public Employment Security Office.
When recruiting, we provide in-advance training on fair screening to new recruiters and interviewers.
Human Rights Reporting Desk
Access our Human Rights Reporting Desk, which is open to our stakeholders, from the link below.
Human Rights Reporting Desk
The TEPCO Holdings, Inc. has a Human Rights Reporting Desk open not only to employees but also to all stakeholders, such as our customers, local community members, clients, and people who work in the supply chain.
When we receive a report, the responsible division will investigate, consider a remedial measure, and request related departments to remedy the situation. We will also work to protect the privacy of the whistleblower, prohibit retaliatory acts, and prevent him/her from being treated disadvantageously.
To maintain fairness, we outsource the report reception process. This means you will be redirected to an external website specifically tailored to receiving reports.
From an information security perspective, we ask you for now to enter only an overview of your situation. The responsible division will individually contact you through email to check detailed information.
We will read the content of your report on the next business day following the day on which your report is posted (excluding days we are closed: weekends/holidays/New Year's holidays). Please be advised that depending on the content of your report, we may take time to respond, and we may be unable to respond in some cases.
Our response is sent individually to the person who filed the report. Please do not copy or make secondary use of our response.
Please do not file reports that are unrelated to us or are intended for slander. We will not respond to such reports.