Efforts towards Nuclear Safety Reform
TEPCO announced its Reassessment of the Fukushima Nuclear Accident and Nuclear Safety Reform Plan in an effort to reaffirm our commitment to the continuous improvement of nuclear safety, which has no bounds.
Thus, we established the "Nuclear Reform Special Task Force" led by our president in order to reform TEPCO's safety culture, safety measures, disaster prevention measures, risk/crisis control protocol, information disclosure, and risk communication methods.
At the same time, we established the "Nuclear Reform Monitoring Committee" as an advisory body for the Board of Directors of TEPCO, organized by global and domestic experts. The Committee monitors and supports TEPCO's nuclear safety reform activities.
Learn more about the "Nuclear Reform Monitoring Committee"
TEPCO shall continue to promote nuclear safety reforms in accordance with our unchanged resolution to "Keep the Fukushima Nuclear Accident firmly in mind; we should be safer today than we were yesterday, and safer tomorrow than today; we call for nuclear power plant operators that keep creating unparalleled safety."
Facility and Operational Safety Measures
Enhancement of defense in depth
Phased approach
Design basis of preparations for damage to the reactor core and the prevention of dispersion of radioactive material
Managerial Safety Measures
Improvement of safety consciousness
- Reform from top management
- Enhancement of oversight and support for management
Improvement of technological capability
- Ability to propose defense-in-depth/ Capability for proposing defense-in-depth
- Enhancement of power station and head office emergency response capability
- Development of personnel for enhancing nuclear safety
Improvement of the ability to promote dialogue
- Enhancement of risk communication activities
The Framework of Nuclear Reform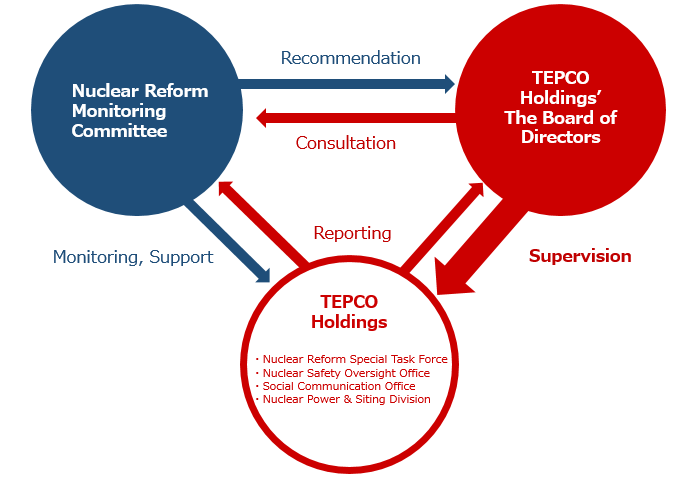 Press release
Feb 9,2018

Nov 1,2017

Aug 4,2017

May 10,2017

Feb 10,2017

Jan 30,2017

Jan 30,2017

Nov 2,2016

Aug 2,2016

May 30,2016

Feb 9, 2016

Nov 20, 2015

Aug 24, 2015

Mar 30, 2015

Feb 3, 2015

Nov 5, 2014

Aug 1, 2014

May 1, 2014

Feb 3, 2014

Nov 1, 2013

Jul 26, 2013

Mar 29, 2013

Dec 14, 2012

Oct 12, 2012

Sep 11, 2012