Emergency Response Training
Emergency Safety Training at Kashiwazaki-Kariwa Nuclear Power Station
The procedures to follow when the power supply functions are disabled due to Tsunami have been newly developed. The effectiveness of the new procedures was evaluated through a comprehensive safety training utilizing the deployed power supply cars and fire engines.
[Setting up the procedures (Completed)]
The situation similar to the accident at Fukushima Daiichi Nuclear Power Station is assumed (Station blackout after Tsunami hits. External power supply, emergency diesel generators and seawater system pumps are all disabled).
Based on the above situation, procedures were set up to achieve water injection to the reactor, cold shut-down and cooling the spent fuel pool.
[[Comprehensive training]
Held 77 times after March 11,2011; approx. 850 people participated. (As of April 30, 2018)
Emergency training was held based on the procedures set up.
Equipments/materials prepared for emergency use (such as power supply cars) were deployed. The operations during night time were also covered.
It was confirmed that the preparation can be completed within 8 hours (target) even when the staff are to come to the station on foot.
[Other training activities]
Receiving power from the power supply car to the power panel
Opening the top vent and the blow-out panel
Handling power cable terminals in the dark
Operating the fire engine etc.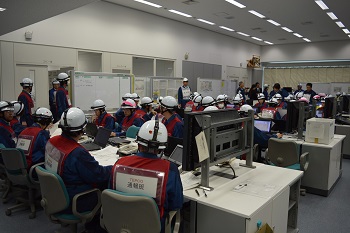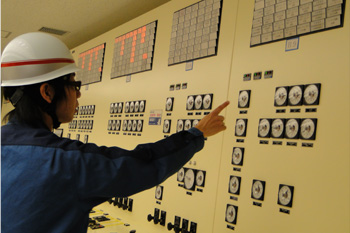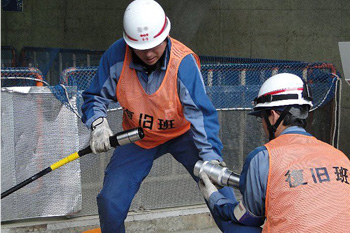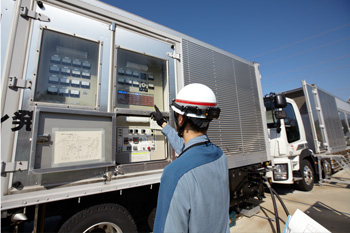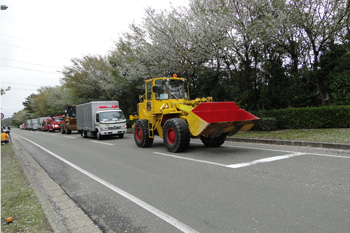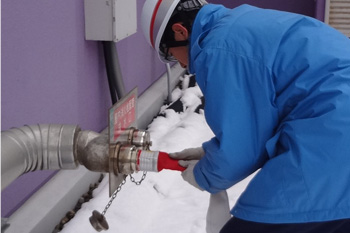 Establishment of a Practical General Training Facility
Overview
We have established a practical training facility in an aim to raise safety awareness among Company employees and employees at cooperating companies, and to improve their ability to assess risk.
This facility is used as a place to educate Company employees and employees at cooperating companies on safety, and includes a corner where employees can learn from past mistakes through displays providing information on past troubles.
Construction Overview
Start of construction
November 1, 2016 (in site preparation process)
Start of operation
Scheduled for autumn 2017
Building overview
Two stories above ground (height approx. 12 m)
Vertically approx. 28 m, horizontally approx. 50 m
Total floor area approx. 1,700 m²
[1st floor] Practical hazard training facilities
[2nd floor] Exhibitions providing a chance to learn from past failures (planned)

Planned Construction Site

Practical Hazard Training Facilities
These facilities provide practical training experiences that mimic latent dangers in the workplace in an effort to raise safety awareness and sensitivity to danger.
The site is utilized to provide each individual a hands-on opportunity to learn about "trouble '0'" and "fatal accident '0'" using all five senses.
Experience Working in High Places
Participants experience working in high places, learning about what kind of hazards are hidden when working.
This hopes to raise awareness of the risks present, and the need for handrails, when working in high places and narrow staircases.
Participants also witness the impact of falls from great heights using dummies.
Experience Suspending from a Safety Belt
Participants learn of the need for safety belts when working in high place, and how to attach and use these belts properly while actually partaking in hands-on experience suspending from a safety belt.
Participants experience the extra load placed on the body, and how safety belts do not function at full effectiveness when not used in the proper manner as a way of having participants develop the muscle memory for using safety belts properly.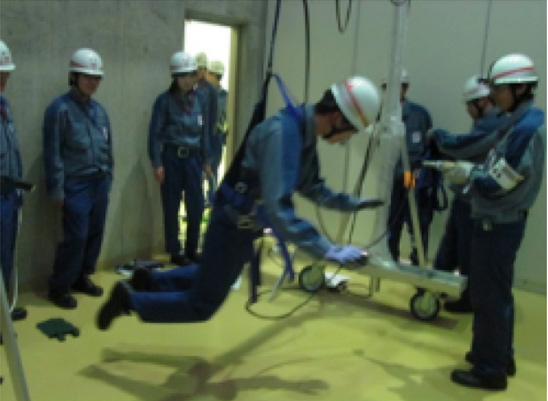 Short Circuit/Electric Shock Experience
Participants experience a shorted (model) circuit and a mild electric shock.
As employees will often be required to perform electrical work inside power generating facilities, having employees understand the mechanisms of, and dangers presented by, short circuits and electric shock through first hand experience is an important step towards raising work safety.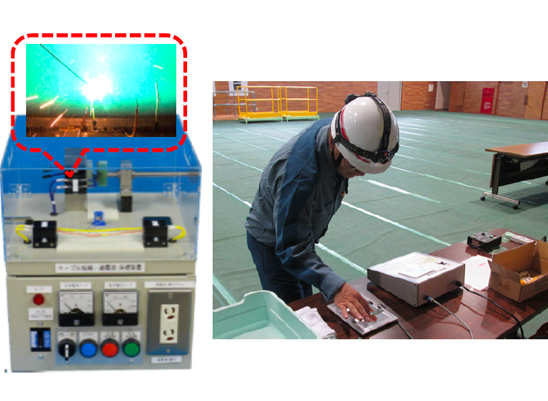 Experiencing the Spread of Contamination by Radioactive Materials
Fluorescent paint is used to model radioactive materials when adhering to participants' clothing. Participants learn that contamination can easily spread when these materials are not completely removed.
Participants also broaden their understanding of these unseen radioactive materials by learning measures to implement to prevent the spread of contamination, and how to use dosimeters to perform accurate measurements.
In addition to these practical hazard training facilities, we are also reviewing the potential for an exhibition corner where visitors can learn from past failures in order to help prevent future mistakes.
We hope to promote effective education and training using this facility to its maximum potential in an effort to raise the technical skills of individual employees and to go further with safety measures implemented at all power stations.