Related Press Releases/Announcements
Search Press Releases
Press Release
TEPCO Releases FY 2018 Second Quarter Financial Results
Oct 30, 2018
Tokyo, October 30, 2018—Tokyo Electric Power Company Holdings, Inc. (TEPCO HD) announced today its consolidated financial results for the company's FY 2018 second quarter from April 1 to September 30.
Sales volume decreased 1.7% year-on-year (YoY) to 116.1 billion kWh despite continual efforts by the group to cut costs electricity. Consolidated ordinary income decreased 2.5% to 210.6 billion JPY due to higher fuel prices as a result of increased fuel costs and intensified competition.
Due to an allocation of 84.6 billion JPY for nuclear damage compensation appropriated as an extraordinary loss, net income attributable to owners of the parent decreased 57.5% to 89.6 billion JPY.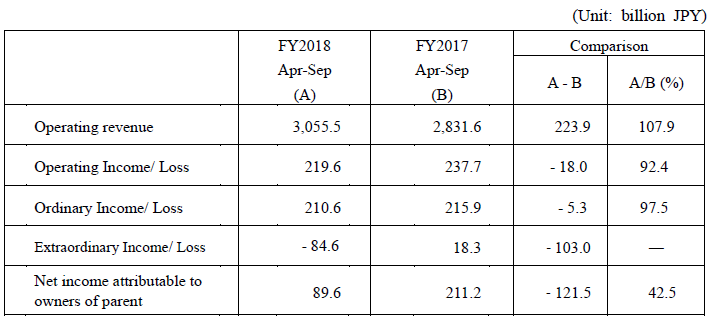 Ordinary income for main group companies follow:
TEPCO HD : rose 10.7 billion JPY to 173.4 billion JPY as a result of increased dividends from three core operating companies.
TEPCO Fuel & Power, Inc. : fell 2.5 billion JPY to 5.2 billion JPY due to increased fuel prices, although fixed costs declined as a result of continuing cost reductions.
TEPCO Power Grid Inc. : rose 35.4 billion JPY to 117.0 billion JPY due to increased transmission revenue and decreased consignment fees and labor costs.
TEPCO Energy Partner, Inc. : fell 36.1 billion JPY to 54.1 billion JPY due to increasedelectricity sales volume outside the service area of ​​TEPCO Power Grid and decreased electricity sales volume due to intensified competition.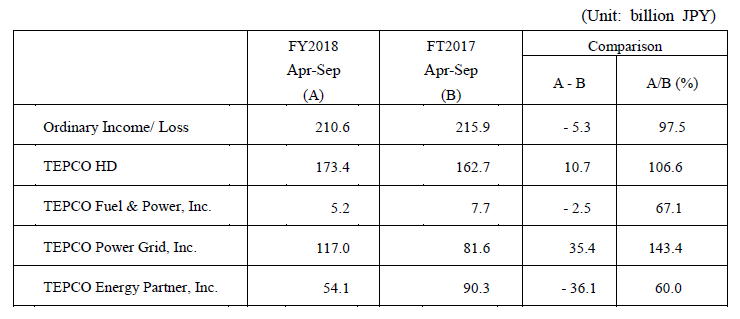 Full-year forecasts for fiscal 2018 remain unchanged from July 30, 2018
Despite increases in fuel costs and purchased electricity, TEPCO HD is forecasting ordinary income for the full year rising 31 billion JPY to 285 billion JPY due to increased operating revenue. Also, the company expects net profit attributable to owners of parent shall be approximately 252 billion JPY.

Note: Forecasts of ordinary income/loss and net income attributable to owners of parent reflect a provisional special contribution of 50 billion JPY to the Nuclear Damage Compensation and Decommissionig Facilitation Corporation (NDF).
Reference
・Overview of FY2018 Second Quarter Financial Results (April 1 – September 30, 2018)

Related Press Releases/Announcements
Search Press Releases