Oze National Park: Japan's 29th National Park
Oze National Park*1 was established as Japan's 29th national park in 2007.
The Oze National Park, which sprawls across four prefectures - Gunma, Fukushima, Niigata and Tochigi - is known for its well-preserved and vast yet delicate nature. Designated as a national park and a Special Natural Monument, Oze is also included in the List of Wetlands of International Importance under the Ramsar Convention*2.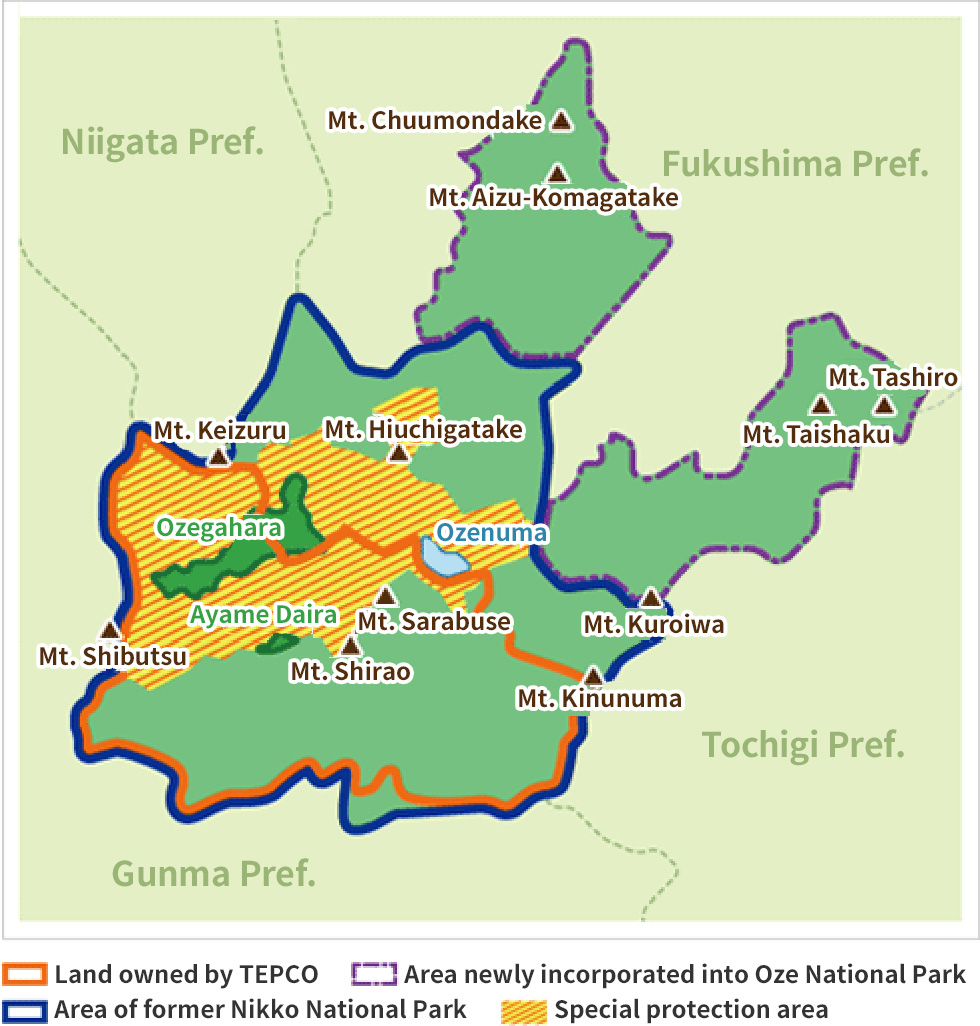 *1:

Oze is not only a national treasure of Japan, it is a treasure of the world. Oze has been under strict legal protection since it was first designated as a part of the Nikko National Park in 1934 and then classified as a National Park Special Protection Area in 1953.
In August 2007, areas with continuity in scenery and vegetation with the Oze area, such as areas around Mt. Aizu-Komagatake and Mt. Tashiro/Mt. Taishaku, were newly added, and then the entire area was split-off and made independent to create a single national park. This was the first time in the history of Japan that a national park was split-off and made a separate park, and it is expected that Oze, locale for various conservation activities on the part of many related organizations and personnel, will become a model case that demonstrates how Japanese national parks should be managed and operated.

*2:

An international agreement aimed at conserving important wetlands. It has been signed by 162 countries (as of August 2012), and there are 46 locations, including Kushiro-shitsugen, Lake Biwa, and Oze in Japan, registered for protection under this agreement. (As of July 2012)
High-Altitude Marshlands
These expansive marshlands, created over a period of some six to seven thousand years, are at an altitude of 1,400 meters. You can walk along the wooden footpaths to enjoy a leisurely stroll through the beautiful nature.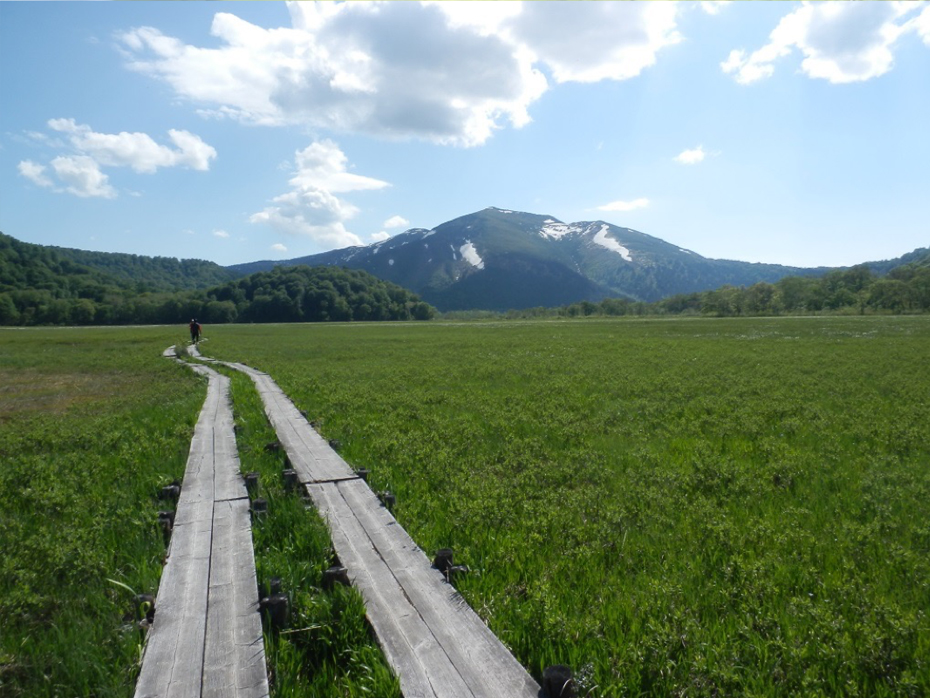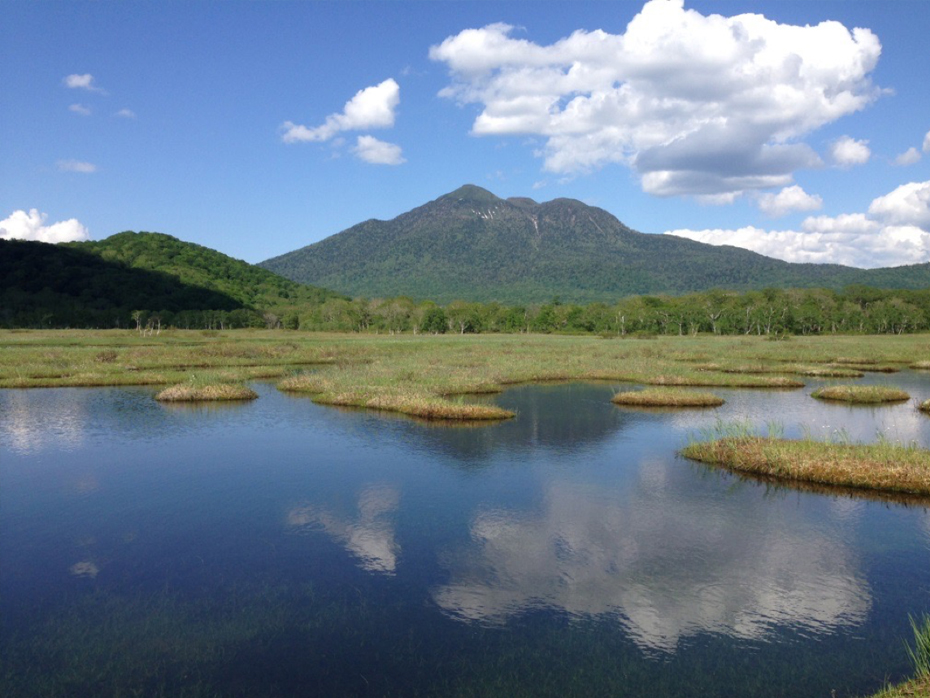 National Park
It was designated as a national park in 2007. Designated as a Special National Monument of Japan, the national park is also included in the List of Wetlands of International Importance under the Ramsar Convention.
Lush Nature
Although closed due to snow from October to May, once the snow melts, there a flower relay to start the tourism season. You can enjoy some 900 varieties of plants and flowers such as white skunk cabbage.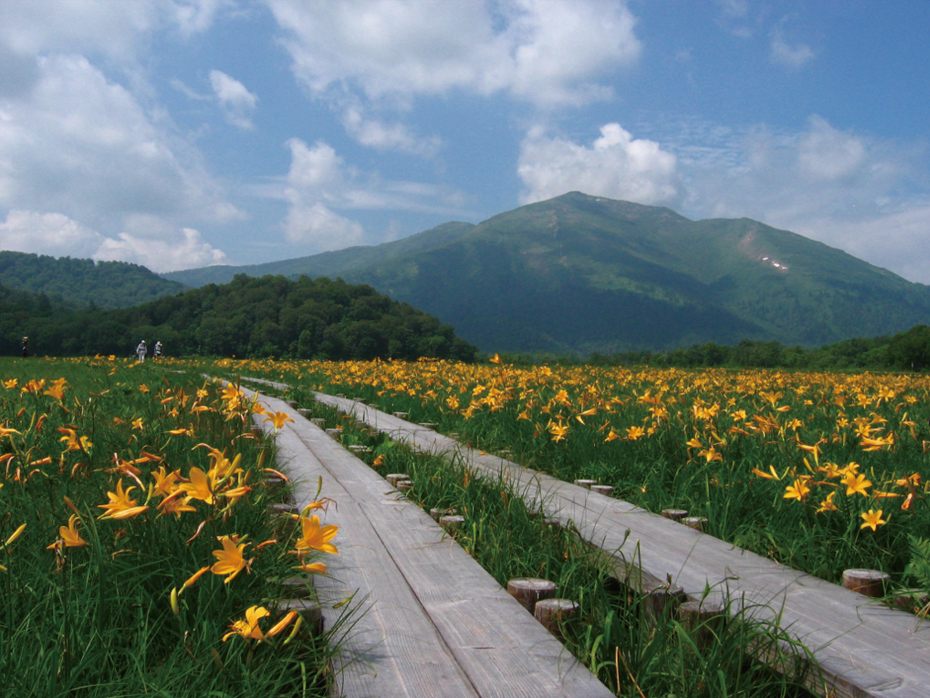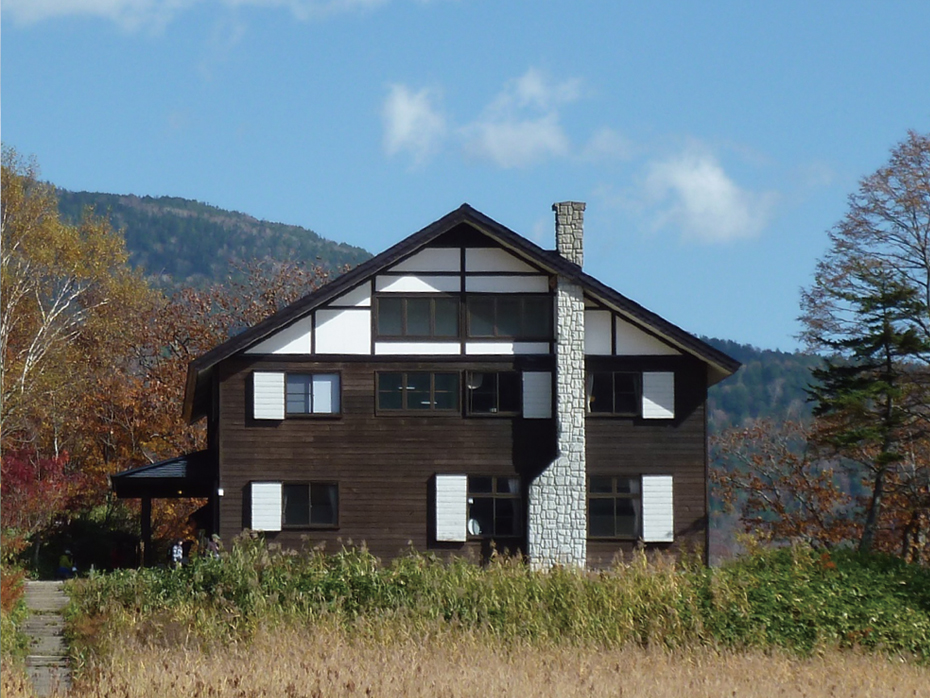 Stay in a Mountain Lodge
There are some 20 mountain lodges. They serve breakfast and dinner, feature communal baths to soothe sore muscles, and allow you to enjoy views of the star-filled night sky and wondrous early morning scenery.
What is the Ramsar Convention?
"Convention on Wetlands of International Importance especially as Waterfowl Habitat"
The "International Conference on the Conservation of Wetlands and Waterfowl" was held in 1971 in the Iranian city of Ramsar located on the shore of the Caspian Sea. Here, the "Convention on Wetlands of International Importance especially as Waterfowl Habitat" (commonly known as the "Ramsar Convention") was adopted.
An international agreement to protect the wetlands became necessary because wetlands, as home to a wide variety of plants and animals, and as extremely important natural resources, greatly require conservation efforts due to being so readily susceptible to development such as land reclamation or landfill, as well as their due to the important relationship of wetlands with ecosystems of other countries through the movement of animals such as migratory birds and fish.
Principle of Continuous "Wise Use" of Resources while Preserving the Wetlands Ecosystem
The objective of the Ramsar Convention is to achieve continuous "wise use" of resources while preserving the wetlands ecosystem. The principle of "sustainable use" was incorporated when first adopted, making it well-known as a pioneering multinational environmental agreement. All signatories to the agreement are required to promote the training of persons to manage internationally important wetlands, implement international cooperation, and take similar actions. Although the agreement was originally focused on waterfowl, as awareness of the importance of wetlands grew, the seventh conference on the agreement in 1999 expanded the scope of important wetlands to include wetlands that are important to the conservation of wider ranging ecosystems, and established the goal of doubling the number of wetlands registered by 2005.
Although by September 2005, the number of signatory countries had increased to 146 with 1,462 areas registered as internationally important wetlands, the number of areas was further doubled at the ninth conference held in Uganda on November 8, 2005. Although 13 Japanese wetlands, including Kushiro-shitsugen and Lake Biwa, had been registered under the agreement, this number was increased to 20, including the addition of Oze, on November 8, and Japan presently has 50 registered wetlands.