Access by Public Transportation
There are three main routes for accessing Oze. You can enter from Gunma Prefecture through the Numata entrance, from Fukushima Prefecture through the Aizu entrance, and from Niigata Prefecture through the Echigo entrance. You can use the Numata entrance if coming from Tokyo and the Aizu entrance if coming from Tohoku. There are also buses that operate non-stop between Tokyo and mountain-climbing entrances*.
*High-way Bus access: Direct High-way bus service from Shinjuku to Katashina village (Tokura and Oshimizu) is available in the hiking season. For more detail, please visit the Kane-estu transportation HP.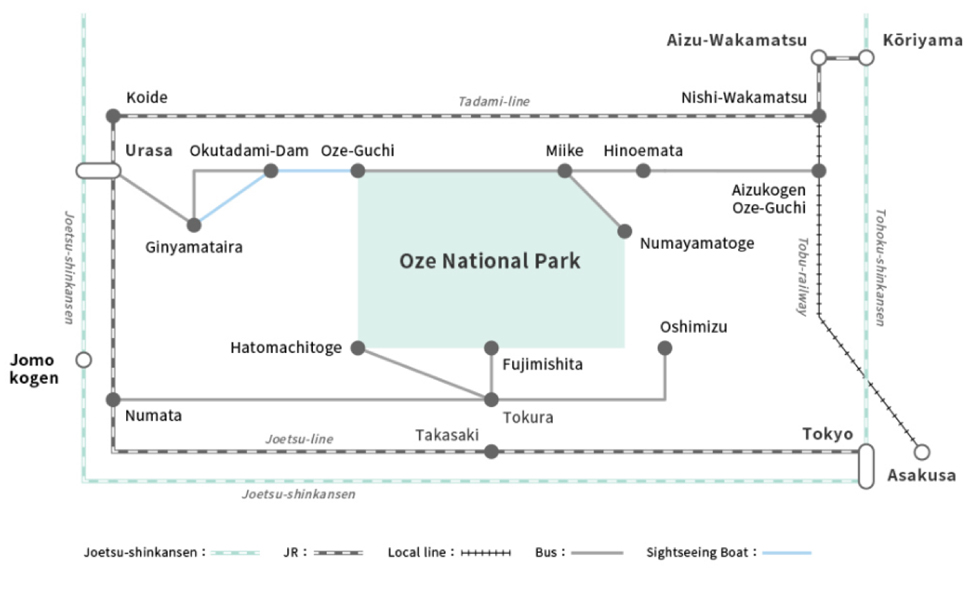 Entering from Gunma
Katashina Village is a village rich with nature located in Gunma Prefecture, and includes Ozenuma and Ozegahara. Katashina Village is blessed with a wonderful natural environment that includes Oze, famous all across Japan for its alpine plants and wetlands, scenery of the interwoven surrounding mountains, such as Mts. Hotaka and Shirane, as well as beautiful lakes of Marunuma and Suganuma, and the ability to enjoy skiing in the winter means that it is bustling with tourists all year round.
By Public Transportation
Shinkansen access: As the number of buses servicing the routes between the mountain-climbing entrances and Jomo-Kogen Station is small, we recommend that you take the shinkansen to Takasaki Station, change lines to the Joetsu Line and then get off at Numata Station. Check the operating dates/times and number of buses beforehand because they vary depending on the restrictions on personal vehicles and day of the week.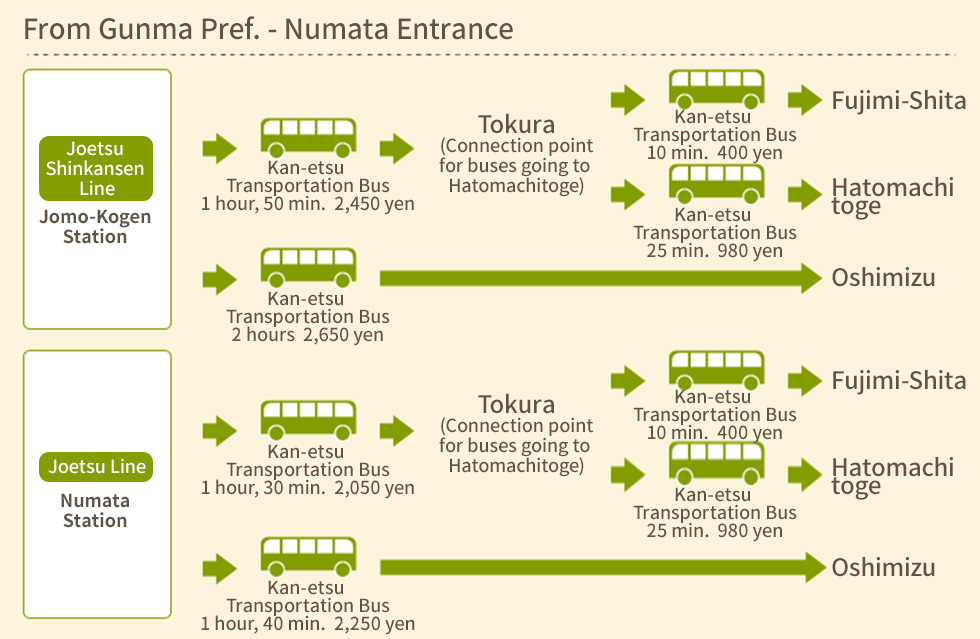 Entering from Fukushima
Check beforehand because there are only a few buses.
The "Oze Night Express 23:55", a night train that departs Asakusa Station (Tobu Railway) to arrive at Oze early in the morning, operates on Fridays and Saturdays (inclusive of non-operating days) from late May until mid-October.

Entering from Niigata
Be careful because the number of trains, ships, and buses for the Echigo entrance are limited in comparison with the Numata and Aizu entrances. Although the numbers of available transport increase during the summer, be sure to check beforehand.
Lake Okutadami Pleasure Boat (Japanese)
Minami Echigo Sightseeing Bus (Japanese)
Reservations are required for the Aizu Bus company. Please inquire beforehand.